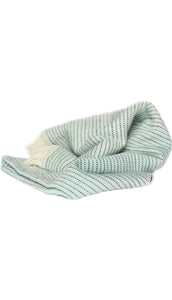 HANDWOVEN AND HANDSPUN CONVENTIONAL COTTON WITH AZO-FREE DYE FROM ARTISANS IN INDIA
Handloom weaving is an ancient handcraft dating back thousands of years. India has one of the richest traditions in this ancient creative endeavor where the textiles are made entirely by hand, without the use of any electricity. Each piece is beautifully woven with natural materials, using traditional techniques and original design by the inspiring artisans dedicated to maintaining exquisite quality in their craft.
We are working toward making handloom a profitable, fulfilling, sustainable, dignified income-earning and life-improving activity particularly for women in rural areas of India. Hand-weaving allows many women to work from home while taking care of children and elders.
The collection includes textiles for everyday use and special occasions, all woven by hand weavers through the collaborative development of contemporary yet timeless textiles. Customization is possible for bulk orders over 25 yards. Great for making reversible jackets, fashion accessories, as well as home goods.
Type: Handwoven & handspun conventional cotton with Azo-free dye
Size: 24" x 78"
Wash Care: Hand wash in cold water
Minimum: 1
Shipment: Ships from New York
please allow 4-6 weeks for any bulk or custom requests.