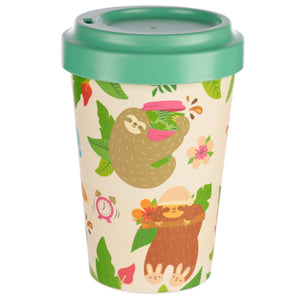 Bamboo Composite Sloth Travel Mug
If you are looking for a range that is not only great for the planet but also looks super cool, then check out our Bambootique range of picnic and kitchen accessories.
Made from bamboo composite which contains a mix of 60% bamboo, 35% melamine and 5% cornstarch, this reusable range contains no BPA and no phthalate. The bamboo comes from chopstick offcuts and is sustainably grown.
Available in everything from plates to travel mugs (the travel mugs are also made with recycled silicone) there is definitely something for everyone.
This range is food and dishwasher safe but cannot be used in the microwave. Do not use with food or drink over 70C as there is a danger of scalding.